NORC

TAKT-HD

 db 10W40 API CI-4/SL
Synthetic SHPD Engine Oil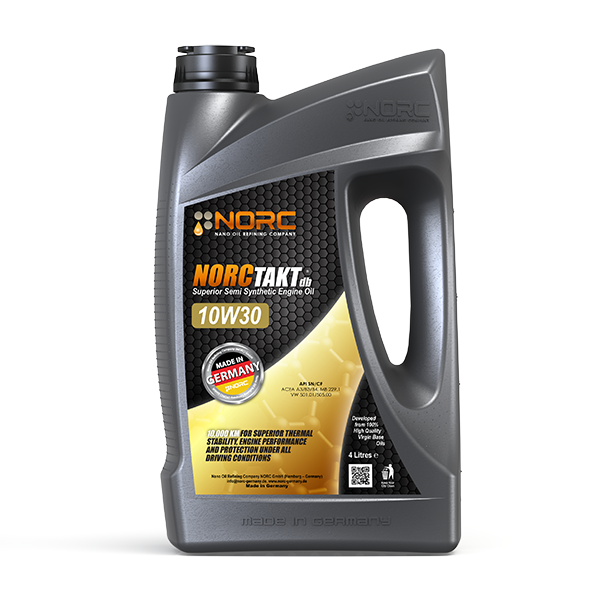 NORC TAKT-HD db SAE 10W40
is a high quality modern multi-grade HC Synthetic engine oil that protects against friction, heat and corrosion, keeping engines healthy and efficient. NORC additive technology reduces carbon and sludge build up even under demanding operating conditions.
NORC TAKT-HD db SAE 10W40
is manufactured using the highest quality HC Synthetic base stocks and state of the art additive technology. This ensures a finished product with unmatched performance level
NORC TAKT-HD db SAE 10W40
is designed for mixed fleet applications, from passenger cars to commercial vehicles. It provides optimum protection against corrosive wear, foaming and viscosity loss due to shear, valve train wear and oxidative thickening.
- Excellent engine protection under severe driving conditions.
- Excellent viscosity retention.
- Optimum protection against corrosive wear and foaming.
- Low oil consumption.
- Excellent engine cleanliness and protection against sludge and soot.
- Thermal and oxidation stability.
- Extended drain intervals.
- Enhance engine performance and efficiency.
- Improve engine longevity and durability.
API CI-4/SL, ACEA A3/B3/B4/E7, RENAULT RLD-2, MB 228.3/229.1, MTU TYPE 2, MAN 3275, VOLVO VDS-3, MACK EO-M PLUS, ALLISON C-4, GLOBAL DHD-1, CAT ECF-1-A/ECF-2, CUMMINS CES 20071/-72/-75/-76/-77/-78, DEUTZ DQC III-05, JASO DH-1.