NORC

 

KÜHLMAX

50:50

Superior Quality Coolant/Antifreeze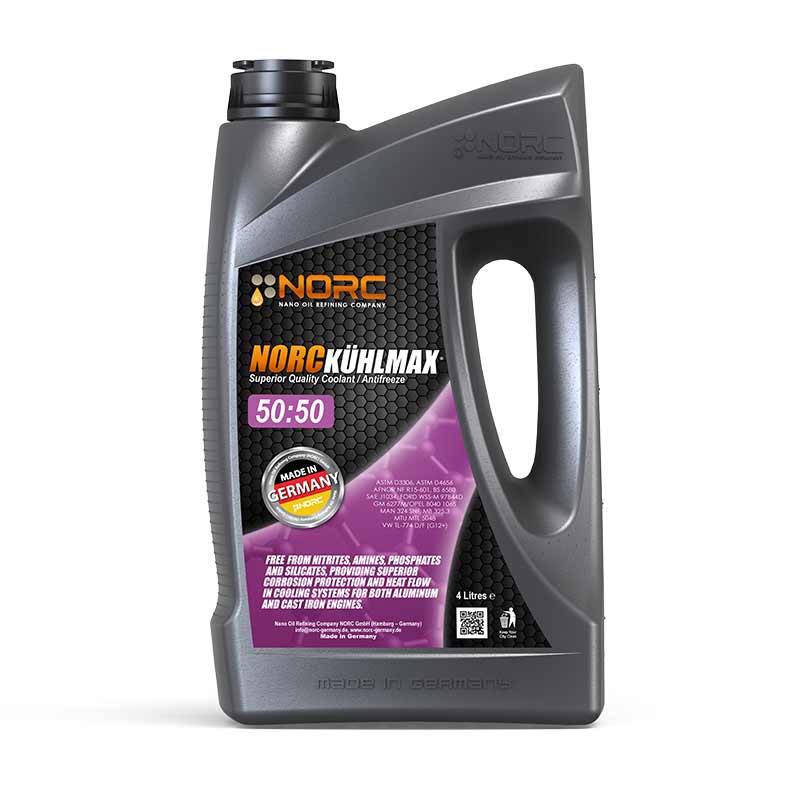 is a premium quality, ethylene glycol based anti-freeze coolant and corrosion inhibitor concentrate, designed primarily to meet the stringent protection requirements of modern car engines which have significant amount of aluminum in their construction.
NORC KÜHLMAX 50:50
is specially formulated and developed to provide corrosion protection for engine and cooling system metals. It minimizes the engine damage by raising the boiling point of diluted coolant.
NORC KÜHLMAX 50:50
is free from nitrites, amines, phosphates and silicates. It reliably prevents deposits and foaming thus offering perfect heat flow. It provides superior protection for both aluminum and cast iron engines.
NORC KÜHLMAX 50:50
is recommended for use in the cooling systems of all types of automotive engines. This product fulfills or exceedsASTM D3306/4656 specifications.
- Protect Against Rust & Corrosion.
-  Provides Excellent Heat Transfer Characteristics.
-  Good Solubility & Stability in both Soft & Hard Water.
-  Compatible with All Rubber Hoses Used in Cooling Systems.
-  Outstanding Antifreeze Property.
-  Excellent Protection in High Operating Temperatures.
-  Suitable for use in both aluminum and cast iron engines.
ASTM D3306
ASTM D4656
AFNOR NF R15-601
BS 6580
SAE J1034
FORD WSS-M 97B44D
GM 6277M/OPEL B040 1065
MAN 324 SNF
MB 325.3
MTU MTL 5048
VW TL-774 D/F (G+12)